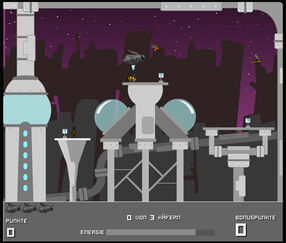 The beetle game is a special game based on the travel systems of Scarazand. Although not appearing in the novels ther is an insect-shaped ship that the people of Scarazand travel in. The link is HERE.
About the Game
Edit
You can control the beetles can fly and transport the beetles from place to place! Here you will collect points for each bug - but be careful: You must not fly or crash into something or even crush the beetles!
As the game is in german some may not be able to read it, these are the translated words:
Main Menu
Edit
Start Game
Highscore
Instructions
Other Menu
Edit
Ad blocker interference detected!
Wikia is a free-to-use site that makes money from advertising. We have a modified experience for viewers using ad blockers

Wikia is not accessible if you've made further modifications. Remove the custom ad blocker rule(s) and the page will load as expected.